We just moved to Astoria, Queens to be close to our jobs. View is great (especially at night) we can see all sorts of buildings lit up. It's a small 1 bedroom, the apartment is railroad style and we are trying to make the best out of what we have (space is a huge issue). I figured blogging is a great way to get my ideas down and find inspiration (perhaps from other bloggers) on how to make a NYC apartment into a home and share some good and some horror stories along they way (as of today, I already have one). For now, here is the sort of thing I have in mind...
Cute living space. The windows sort of remind me of the windows we have. I love the antique looking furniture. We already have two cats. I have always wanted a hot dog dog. Will a small yapping dog be in the future for us? It is a possibility, but for now we will stay cat people.
Shelves! Yup, that is in the plans for us, and lots of them! I also love the brick and now I totally wish we had a brick wall up in this joint.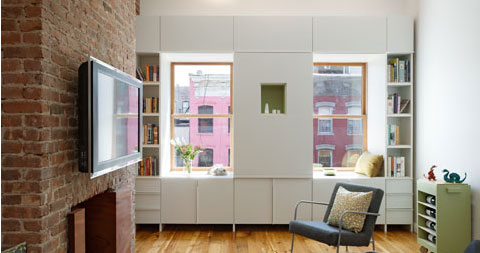 This shelf unit is absolutely amazing. I want it so badly.